INSTANTLY REDUCES
TOTAL WEIGHT BY 25 LBS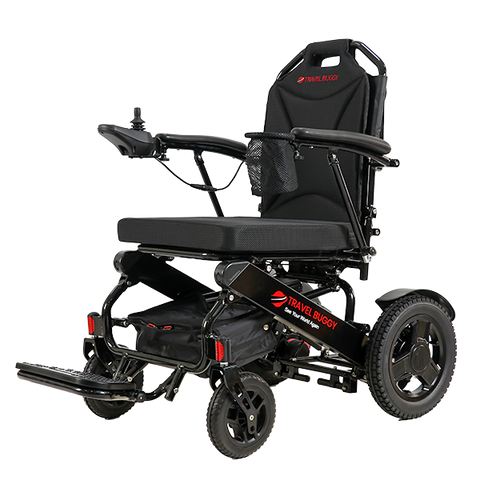 Travel Buggy
Foldable Power Chairs
Folds like a Lawn Chair
Lightweight and Easy to Drive
Fits in any Vehicle
Turns on a Dime
Great for Indoor & Outdoor Use
Allowed on Airplanes
Our most stylish power chair yet, VISTA is the perfect everyday chair. It is stylish, comfortable and offers the biggest value for money.

Easy to Use and Fold

Weighs only 50 lbs

18.5 km Driving Range

Capacity up to 300 lbs

Our most stylish power chair yet, VISTA is the perfect everyday chair. It is stylish, comfortable and offers the biggest value for money.

Easy to Use and Fold

Weighs only 50 lbs

18.5 km Driving Range

Capacity up to 300 lbs

BEST SELLER

Our most feature rich power chair EVER! Designed for ultimate comfort & performance. Holds up to 395 lbs!

Adjustable for Plus Sized Users

Disassembles to 3-Pieces

25 km Driving Range

Capacity up to 395 lbs

Our most feature rich power chair EVER! Designed for ultimate comfort & performance. Holds up to 395 lbs!

Adjustable for Plus Sized Users

Disassembles to 3-Pieces

25 km Driving Range

Capacity up to 395 lbs

Our lightest power chair, weighs only 39 lbs! Designed so anyone can lift it yet capable of holding 265 lbs. Most convenient power chair!

Convenient to Load and Go

Weighs only 39 lbs

15 km Driving Range

Capacity up to 265 lbs

Our lightest power chair, weighs only 39 lbs! Designed so anyone can lift it yet capable of holding 265 lbs. Most convenient power chair!

Convenient to Load and Go

Weighs only 39 lbs

15 km Driving Range

Capacity up to 265 lbs
Take this short quiz to find a TRAVEL BUGGY that is perfect for your needs
Takes approximately 2 minutes
Ships from Canada
We offer free expedited shipping across Canada on all purchases over $100. Ships next day from our Canadian warehouse arriving in 3 to 5 business days.
30-Day Return Policy
Buy online and if you are not completely satisfied with your new Travel Buggy, we offer a 30-Day Return Policy. No restocking fees.
Direct Billing to Insurance
We've got you covered. Literally. Depending on your insurance, you could be covered up to 100%! Travel Buggy does direct billing with most major insurers.





We offer an industry leading warranty and no-hassle parts replacement. We keep parts in stock to make sure you have limited down-time on your folding electric wheelchair.
Designed for travel
Our portable chair is approved for air travel by CATSA, TSA (US) and various other security and aviation authorities. No additional "Travel Batteries" required like our competitors!
We've partnered with some of the industries best power wheelchair technicians to offer you service and maintenance across Canada.
Why choose
Travel Buggy

?

Watch this short video to learn why thousands of happy customers have chosen Travel Buggy.
Regain your
Independence

with Travel Buggy

See how Travel Buggy (VISTA) has helped this customer keep up her social life despite not being able to walk at all.
See why the Calgary Zoo
loves Travel Buggy
See why the Calgary Zoo made the choice to switch their power wheelchairs to Travel Buggy (City). We are so proud to be working with this amazing organization!
Doug F.
Daniel, QC
Louise, ON
Denise, AB
Judith, NS
J.T. Moyer
Anonymous
READ ALL REVIEWS
FREQUENTLY ASKED QUESTIONS
Where can I buy an electric chair?

You can purchase an electric wheelchair from various sources, both online and in-store. However, for quality, reliability, and excellent customer service, we recommend buying directly from Travel Buggy or from one of our authorized resellers. Here's how you can do it:

Online: You can buy directly from this website. We offer a range of models including the CITY 2 PLUS, VISTA, and DASH ULTRA-LITE. You can view detailed specifications, compare models, and place your order directly on our website. We offer shipping across Canada.

Amazon: Travel Buggy is also a top seller on Amazon, consistently ranking among the top 10 best-selling power chairs. You can click here or search for "Travel Buggy" on Amazon to view our products.

Physical Stores: We have 200+ physical stores across Canada. You can visit these stores to see our models in person, try them out, and speak with our partners' knowledgeable staff who can help you choose the perfect model for your needs.

Remember, when you buy a Travel Buggy electric wheelchair, you're not just getting a top-rated electric wheelchair, you're also getting our commitment to excellent customer service and support. We're here to help you every step of the way, from choosing the right model to providing after-sales service and support.

How much does it cost to rent a wheelchair?

The cost to rent a wheelchair can vary greatly depending on the type of wheelchair, the rental duration, and the provider. On average, you might expect to pay anywhere from $15 to $50 per day for a manual wheelchair, and $50 to $150 per day for a power wheelchair.

At Travel Buggy, we focus on providing high-quality power wheelchairs for purchase, offering a range of models to suit different needs and budgets. While we don't offer rentals, we believe that owning a Travel Buggy wheelchair can be a cost-effective and convenient solution in the long run, especially for those who need a wheelchair for an extended period or on a regular basis.

If you're considering renting a wheelchair in order to try before you buy, we recommend taking advantage of our 30-day hassle-free return policy to get a feel for your power chair.

Always be sure to ask about the total cost, including any deposits or fees, and what support and service the rental company provides.

Both buying and renting a wheelchair have their own advantages, and the best choice depends on the individual's specific needs and circumstances. Here are some advantages of buying a wheelchair compared to renting:

Long-Term Cost-Effectiveness: While buying a wheelchair requires a larger upfront investment, it can be more cost-effective in the long run if you need a wheelchair for an extended period. Renting can add up over time, and you may end up paying more than the cost of a new wheelchair. Our 0% financing plans OAC make it even more affordable to buy and alleviate any unnecessary stress on your wallet.

Customization: When you buy a wheelchair, you can choose the exact model and features that best fit your needs and preferences. You can select the right size, weight capacity, and other features like foldability or travel range. This isn't always possible with rentals, which may have a limited selection.

Availability: When you own a wheelchair, it's always available when you need it. You don't have to worry about rental availability or returning it by a certain date.

Maintenance and Hygiene: Owning a wheelchair means you're responsible for its maintenance and cleanliness. This can be an advantage as you can ensure it's always kept in good condition and cleaned to your standards.

Resale Value: If you no longer need the wheelchair in the future, you may be able to sell it and recoup some of your investment. This isn't possible with a rental.

At Travel Buggy, we offer a range of high-quality power wheelchairs for purchase, each designed with different needs and lifestyles in mind. We're committed to helping our customers find the right mobility solution for their needs.

How much does electric chair cost?

The cost of an electric wheelchair can vary widely based on the model, features, and the manufacturer. On average, you can expect to pay anywhere from $1,500 to $4,000 for a high-quality power wheelchair.

At Travel Buggy, we offer a range of models to suit different needs and budgets:

CITY 2 PLUS Model: This model offers a balance of power, comfort, and portability. It's priced in the mid-range, offering excellent value for its robust features.

VISTA Model: The VISTA Model, with its extended travel range and robust performance, is priced at the higher end of the range. Its advanced features and capabilities justify the investment.

DASH ULTRA-LITE Model: As our lightest model, the DASH ULTRA-LITE is priced at the lower end of the range. Despite its affordability, it still offers excellent performance and portability.
What are the best wheelchairs for cruises?

Choosing the best wheelchair for a cruise depends on several factors, including the individual's mobility needs, the layout of the ship, and the types of activities planned during the cruise. Here are some general features to look for:

Compact and Maneuverable: Cruise ship cabins and corridors can be tight, so a compact and maneuverable travel wheelchair can make navigation easier.

Foldable: A foldable electric wheelchair can be a great asset on a cruise ship, as it can be easily stored in the cabin when not in use.

Durable and Reliable: The travel wheelchair should be durable and reliable, capable of handling a variety of surfaces and conditions.

Comfortable: Comfort is key, especially for longer trips. Look for a wheelchair with a comfortable seat and backrest, and consider features like adjustable armrests and footrests.

At Travel Buggy, our portable electric wheelchairs are designed with these considerations in mind. For instance, our CITY 2 PLUS and VISTA models are compact and maneuverable, making them great for navigating on a cruise ship. They're also foldable for easy storage in your cabin.

Our DASH ULTRA-LITE model, being our lightest model, is especially easy to transport and store, making it an excellent choice for travel, including cruises.

Remember, it's always a good idea to check with the cruise line about their specific policies regarding wheelchairs and to consider the specific layout and amenities of the ship when choosing a wheelchair.

Can I carry an electric wheelchair on a flight?

Yes, you can carry a portable electric wheelchair on a flight, but there are certain guidelines and procedures that you need to follow. Here's a general overview:

Notify the Airline: It's important to notify the airline in advance that you will be traveling with an electric wheelchair. This allows them to make necessary preparations and provide you with any specific instructions.

Check the Airline's Policy: Different airlines have different policies regarding electric wheelchairs. Some may require that the wheelchair be stored in the cargo hold during the flight, while others may allow it to be stored in the cabin if there's space. Always check the airline's policy before your trip.

Battery Requirements: Airlines have specific regulations regarding the types of batteries allowed on flights. Most airlines allow lithium-ion batteries, which are commonly used in electric wheelchairs, but they may need to be removed and carried separately during the flight. Always check the airline's battery policy.

Preparation for the Flight: Before the flight, the wheelchair will need to be prepared for transport. This usually involves folding the wheelchair and securing any loose parts. The airline staff will typically handle the wheelchair from the gate to the plane and ensure it's properly stored during the flight.

At Travel Buggy, our power wheelchairs, including the DASH ULTRA-LITE model, are designed to be travel-friendly. They're compact, lightweight, and easy to fold, making them ideal for air travel. However, it's always important to check with your specific airline for their rules and procedures regarding traveling with a portable electric wheelchair.

What is the best power wheelchair/scooter for air travel?

When it comes to air travel, the best power wheelchair or scooter is one that is compact, lightweight, and easy to maneuver. It should also have batteries that are approved for air travel.

All Travel Buggy models are specifically designed for air travel. Here's why:

Compact and Lightweight: Our compact design makes it easy to maneuver in tight spaces like airplane aisles, and it folds easily for storage during the flight.

Air Travel Approved Batteries: All our models come with lithium-ion batteries that are approved for air travel. Remember, it's important to always check with your airline for their specific rules and regulations regarding traveling with a power wheelchair and batteries.

Easy to Handle: Our models are designed with user-friendly controls, making it easy to operate even in crowded or tight spaces.

Comfortable: Despite its compact size, we don't compromise on comfort. All three Travel Buggy models have a padded seat and backrest to ensure a comfortable ride.

Remember, when planning to travel with a battery wheelchair, it's important to notify the airline in advance and arrive early to allow time for any necessary assistance at the airport. At Travel Buggy, we're committed to providing mobility solutions that fit your lifestyle, including travel-friendly models for your adventures.