INDUSTRY LEADING

PARTS WARRANTY
| | | | |
| --- | --- | --- | --- |
| | shop now | shop now | shop now |
| Frame | 5 Years | 5 Years | 5 Years |
| Motor | 2 Years | 2 Years | 2 Years |
| Control System | 1 Year | 1 Year | 1 Year |
| Battery | 1 Year | 1 Year | 1 Year |
| Wear Parts | 3 Months | 3 Months | 3 Months |
OUR WARRANTY
We offer a hassle-free parts warranty on ALL of our Travel Buggy models for your peace of mind. Replacement parts are shipped fast from our warehouse in Canada. Plus only Travel Buggy has a network of technicians Coast to Coast that know our products and can help you fix it.
FRAME: 5 YEARS
AIRLINE GRADE ALUMINUM FRAME
At the heart of Travel Buggy's renowned wheelchairs lies our meticulously crafted aluminum frame. Engineered from airline-grade aluminum, this frame is the epitome of lightweight resilience. While its feather-light nature ensures effortless portability and maneuverability, its robustness guarantees longevity and unwavering support. This perfect blend of lightness and strength not only enhances the user experience but also stands as a testament to our commitment to superior quality and innovation. Choose Travel Buggy, where cutting-edge materials meet unparalleled design.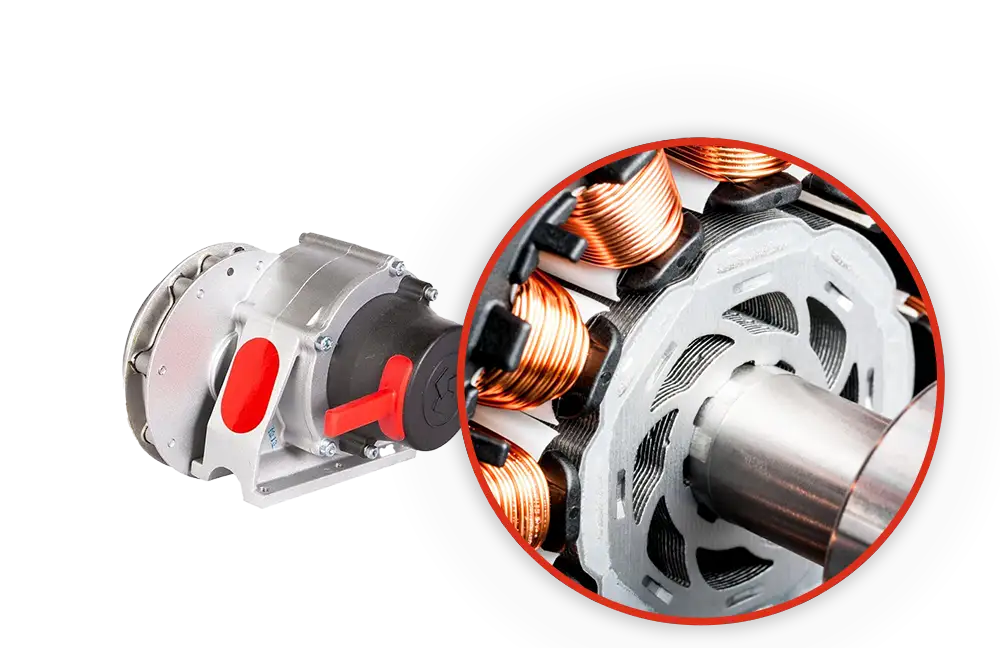 MOTORS: 2 YEARS
SUPERIOR BRUSHLESS MOTOR TECHNOLOGY
Powering the prowess of Travel Buggy wheelchairs is our advanced brushless motor technology. These motors are not only highly efficient, ensuring optimal battery usage and longer rides, but they're also designed to tackle challenges head-on. Whether it's a serene park path or rugged outdoor terrains, our motors handle it with unparalleled ease. The seamless integration of efficiency and power in our motors guarantees that every journey is smooth, reliable, and above all, empowering. With Travel Buggy, you're not just choosing a wheelchair; you're investing in state-of-the-art mobility.
CONTROLS: 1 YEAR
INTUITIVE 360° CONTROL SYSTEM
Steer your journey with Travel Buggy's intuitive control system. Designed for precision and ease, our 360-degree controls offer users the freedom to navigate tight corners, narrow hallways, and every space in between with unmatched agility. Whether you're weaving through bustling crowds or making sharp turns, our enhanced maneuverability ensures you do so with confidence. And with five distinct speed settings, you have the flexibility to tailor your ride to your environment and comfort. Fully customizable and user-centric, our control system is a testament to Travel Buggy's dedication to providing an unparalleled mobility experience. Navigate your world with precision and poise.
BATTERY: 1 YEAR
LONG LASTING LITHIUM ION BATTERIES
At the core of Travel Buggy's unmatched mobility is our high-efficiency battery. Designed for the modern traveler, this battery is not only lightweight and compact but also packs a punch in terms of longevity. Each charge promises extended hours of seamless movement, ensuring you're always powered for your adventures. Beyond its performance, our battery stands as a beacon of eco-friendliness. Committed to sustainability, we've ensured that our batteries have minimal environmental impact. With Travel Buggy, you're choosing a battery that's not just powerful and efficient, but also kind to our planet. Experience mobility that's both sustainable and superior.
LIMITED WARRANTY
This warranty is valid for the replacement of dysfunctional parts only. Any parts under warranty will be replaced and shipped to your door. Any service and labor fees, if applicable, to replace parts under warranty must be paid by the user.
Due to its straightforward design, most parts can be easily exchanged by the end user without a professional service tech required. However if you do require professional help don't hesitate to contact one of our 50+ authorized service centers!
CANADA'S
BIGGEST SERVICE NETWORK
Get in-store service just down the road
Warranty Excellence
Seamless Service,
Satisfied Customers
At Travel Buggy, we understand that unexpected issues can arise. However, it's our commitment to addressing these challenges and the unparalleled service we provide that truly sets us apart from the competition. We stand by our products and our promise to ensure that every Travel Buggy experience is a positive one.
TRANSPARENT POLICY
The warranty on your electric wheelchair will be voided by:
Damage caused by improper use, accident, abuse, improper installation and improper repair
Damage caused by refitting the product without the written consent of Travel Buggy
Damage caused by the load capacity exceeding guidelines.
Warranty is non-transferable and only for the use of electric wheelchair purchaser.
Warranty claims may require photos or videos of the damage or issues encountered with the product.
Warranty is on Travel Buggy parts only and does not cover any potential labor time to replace parts or maintenance service.
FREQUENTLY ASKED QUESTIONS
What does the warranty cover?

Travel Buggy's warranty is limited to the replacement of parts only. Any labor or service costs required to replace the part will be the responsibility of the customer. Most parts are easy to replace, with the most complicated parts taking an authorized Travel Buggy service technician usually less than one hour.

What if I can't replace the broken part on my own?

Some parts are more difficult than others to repair, but don't worry, we have over 50 authorized service centers across Canada to help you.

What if there is no authorized service center nearby?

No problem, our customer service team will call to find someone qualified to replace the part for you.
How do I make a warranty claim?

It's easy, simply call or email us describing the issue with your chair. Our service techs will get in touch with you within 24 hours to identify and confirm the issue. Once we confirm the part to be replaced we will send you a new part.

How long will it take to get my replacement part?

We stock all replacement parts, so expect 3 to 7 business days to receive your replacement part depending on where you live or the location of the service center we are shipping it to.

Who pays for shipping on the replacement part?

Travel Buggy will cover the cost to ship the replacement part to your home or an authorized service technician.